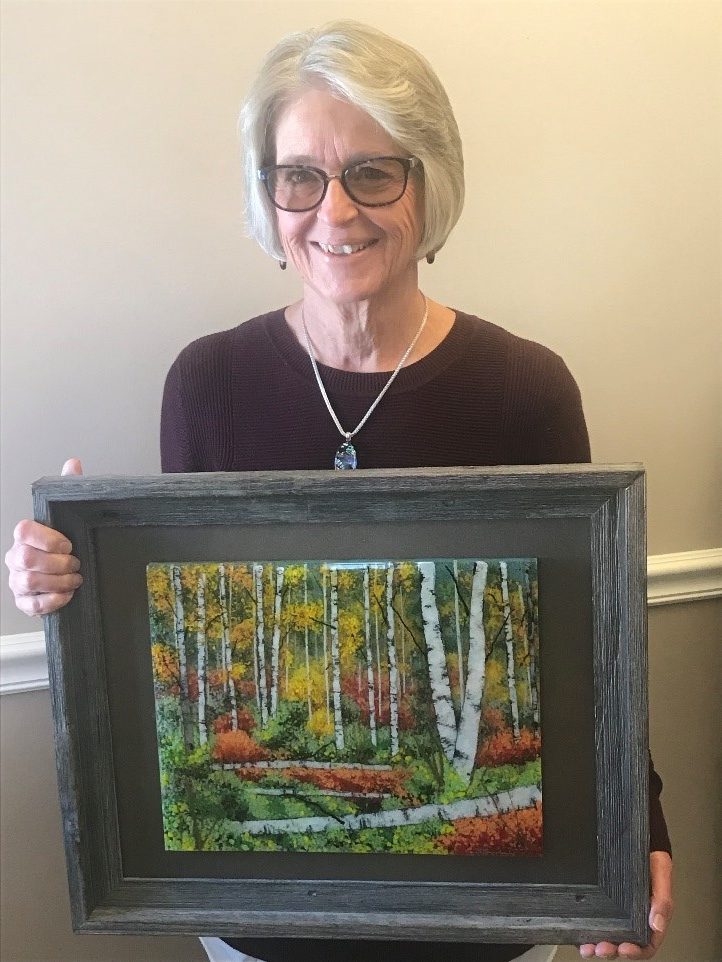 My glass life started following my retirement when I finally had time to do what I wanted to do. This evolution began with a desire to learn stain glass, evolved into using a torch to melt glass and beads and finally with a small kiln where I made small items and jewelry. As time moved on, I became passionate about fused glass. A renewed interest in art, especially quaking aspens, took me back to a time where I tried painting them in high school. Now 5 kilns and 12 yrs later I am finally able to create outdoor images in glass.
I currently live in Layton Utah spending a lot of the summer time at our cabin near Yellowstone Park. Our cabin is nestled in huge old growth Spruce trees surrounded by areas of quakies, lodge pole pine, and other flora. The moose, deer, woodpeckers, owls and other animals routinely visit and the overall environment speak to me as an inspiration for my artwork. I have been able to combine various glass techniques and components to create unique fused glass art. The photo you see is one of my latest pieces and is made of 100% glass fused into a three-dimensional piece approximately ½" to ¾" thick.
I am currently serving as a board member in the Glass Art Guild of Utah (GAGU). My husband and I are currently show chairs for the Red Butte show and have been for the past 4 years. My 38 years of experience in retail management has given me skills that I find valuable in chairing this show. This in turn has given me an opportunity to work with incredible artists and meet with people who appreciate Glass art.
B Busche Glass Studio contact me at: BCBUSCHE@GMAIL.COM